Resident Life
---
Joy in Medicine / Book clubs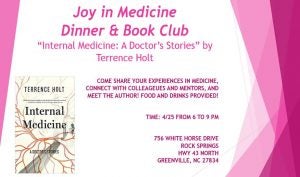 Joy in Medicine Dinner & Book Club
"Internal Medicine: A Doctor's Stories" by Terrence Holt
Come share your experience in medicine, connect with colleagues and mentors, and meet the author! Food and drinks provided!
Time: 4/25 from 6 to 9 pm
756 White Horse Dr., Rock Springs, Hwy 43 North, Greenville, NC 27834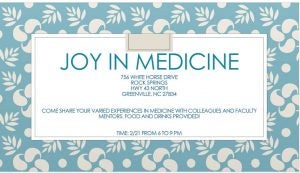 Joy in Medicine
756 White Horse Dr., Rock Springs, Hwy 43 North, Greenville, NC 27834
Come share your varied experiences in medicine with colleagues and faculty mentors. Food and drinks provided!
Time: 2/32 from 6 to 9 pm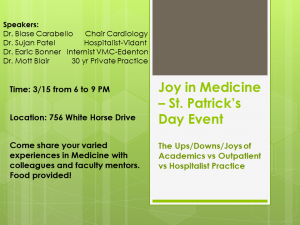 Joy in Medicine – St. Patrick's Day Event
The Ups/Downs/Joys of Academics vs Outpatient vs Hospitalist Practice
Speakers:
Dr. Blase Carabello – Chair Cardiology
Dr. Sujan Patel – Hospitalist-Vidant
Dr. Earic Bonner – Internist VMC-Edenton
Dr. Mott Blair – 30 yr Private Practice
Time: 3/15 from 6 to 9 pm
Location: 756 White Horse Dr., Rock Springs, Hwy 43 North, Greenville, NC 27834
Come share your varied experiences in medicine with colleagues and faculty mentors. Food provided!
---
Resident Council
Resident and Fellow Council is the connection between GME administration and our programs. Broad goals include breaking down silos between programs and establishing residents as leaders within ECU Health. We have been able to insert resident voices on multiple upper level committees:
GME-C
Med Exec
Hospital Patient Safety and Quality Improvement
IPAC (Inpatient Advisory Committee)
Diversity and Inclusion
ECU Physicians High Value Care and Quality
Ongoing projects include the On Call Provider QI project as part of a larger project to improve communication around the institution, as well as trying to standardize protocol for calling out while on an off-service rotation.
---
Wellness Committee
Here at ECU, we believe wellness is a vital part of resident life. Outside of routinely spending time together, our program focuses on a wellness curriculum with guest lectures that focus on meditation, mindfulness, as well as other topics felt to be helpful to increase overall wellbeing. We also have a wellness committee run by residents that help plan wellness projects, wellness lectures, and initiatives to improve the lifestyle of our residents. Previous activities include
International potluck
Family dinner
Lakehouse retreat: Every year, residents enjoy a day of relaxation at the program director's local lake house where they can partake in various water sports such as jet skiing, tubing, kayaking, and paddle boarding.
Pumpkin carving at Halloween
White Elephant Gift Exchange at Christmas
Valentine's day celebration
ECU Health also provides employees with dedicated counseling and crisis resources, in addition to
financial, legal, and supervisory services.

Visit Employee Assistance
---
Diversity
The department of Internal Medicine aims to increase the supply of physicians serving the state, improve the health of eastern North Carolina's citizens and provide our resident physicians with the knowledge, skills, and values to succeed in a global, multicultural health care system and society. We are committed to social justice and therefore, we embrace a climate of diversity and inclusion. We welcome differences in age, sex and gender, sexual orientation, gender identity, race, ethnicity, indigenous background, culture, national origin, language, religion, spiritual orientation, ability status, social class, education, veteran status, political persuasion, professional interests, and other cultural and professional dimensions. We are committed to recruiting and developing a diverse group of residents and physician leaders in Internal Medicine to meet the future needs of our patients.
Opportunities:
GME Diversity Committee – an ECU/BSOM resident committee that works on programming and activities for diversity and inclusion for all residents of ECU/Vidant
Institutional Resources:
---
Global Health
The mission of the Global Health and Underserved Populations Program is to prepare ECU residents as effective global health providers, researchers, educators and learners.
---
Photo Gallery
Check out photos from some of our social events including our residency mixer, Dr. Leland's lake house retreat, family dinners, and presentations in hospital board committee meetings.