Welcome to the Division of Hematology / Oncology
---
Our Role and our Mission
Provide cutting edge cancer care and treatment through innovative cancer treatment research beyond settling for the status quo of guidelines.
To educate and train young oncologists to be oncology thinkers and not just doers and be a beacon of the best cancer care and treatment across Eastern North Carolina.
The division has a legacy of excellence in care and specialized expertise. It is a regional resource for eastern North Carolina, and has assisted in the development of cancer programs in several outlying hospitals. Because of the complexity of these diseases and the rapid development of new therapies, multidisciplinary disease oriented care is our model. We offer specialized programs in breast cancer, aerodigestive tract malignancy, melanoma, urologic malignancies, hematologic malignancies, benign hematology and hemostasis.
On the inpatient service, a team approach is used which consists of staff physicians, a cancer nutritionist, cancer pharmacist, cancer program chaplain and specially trained nurses. The service offers not only the most current chemotherapy and biotherapy, but a comprehensive array of patient and family oriented services including symptom management, pain control, family education, discharge planning, home care and (when needed) hospice care planning.
Our outpatient services are coordinated at the ECU Health Cancer Care at The Eddie And Jo Allison Smith Tower in Greenville. This facility is adjacent to the Brody School of Medicine. Nursing services are provided by oncology accredited nurses, and patients in the naturally lighted chemotherapy bay are assisted by case managers, pharmacists and social workers. The Hematology/Oncology Division is a major participant in clinical trials and we committed to the delivery of cutting edge care to the residents of eastern North Carolina.
Our ACGME accredited fellowship training program endeavors to provide our trainees with the best tools to care for patients with hematologic or oncologic disease.
---
About Us
Our ECU Division of Hematology Oncology have a diverse interest and expertise. In conjunction with ECU Health Cancer Care, we provide care to our Oncology patients at the Eddie and Jo Allison Smith Cancer Tower where we have both inpatient and outpatient facilities as well as a large infusion suite. Our inpatient service is staffed by IM Hospitalists with our Hematology Oncology faculty providing consultative expertise.
Our faculty are disease focused:
We have expertise in the common solid tumors of Breast, GI, Prostate and Thoracic as well as more unusual tumor types such as bladder and sarcomas
Each of our disciplines has a dedicated multi-disciplinary tumor board where patients are discussed by Medical Oncology, Surgical Oncology, Radiation Oncology, Pathology and Radiology.
Decisions about multi-modality therapy can be coordinated at these tumor boards.
We have a dedicated group of Hematologist who treat lymphoma, leukemia, myeloma and other benign and malignant diseases.
Specialty Clinics:
We have a Comprehensive Adult Sickle cell clinic partially funded by NC DHHS which is staffed by 2 hematologists and an APP.
We have a Sickle cell day hospital which allows acute treatment of painful crisis.
We also have a Comprehensive Adult Hemophilia Clinic which is funded through ATHNS at the CDC.
Supportive Care:
Clinical Supportive Care – services including nutrition, stress management, and Reiki therapy and massage therapy.
Symptom Management Clinic – which helps us reduce hospitalizations in patients with acute side effects of chemotherapy such as nausea, vomiting fevers dehydration etc.
Screening – In this clinic we evaluate patients for high risk and genetic cancers and ensure proper timing of screening tests.
Counseling – We have a full time genetics counselor who can evaluate for familial cancer syndromes such as BRCA associated breast cancers.
Clinical Trials:
We have a large clinical trials office which supports our Principle Investigators in the execution of cooperative group, pharmaceutical, and investigator initiated trials.
Our office has approximately 40 to 50 clinical trials in various disciplines.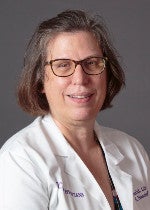 Darla Liles, MD
Professor
Chief, Division of Hematology / Oncology