Fellowship
---
Overview
The Division of Nephrology and Hypertension offers a dynamic, two-year, fully accredited training program in nephrology. Our program provides structured educational and clinical opportunities allowing fellows to acquire the knowledge, clinical skills and professional attitudes to be excellent nephrologists. Our division cares for approximately 180 chronic dialysis patients with end stage renal failure and offers medical services, including home hemodialysis, and inpatient/outpatient medical services for kidney diseases.
With the addition of two new transplant surgeons in June 2010, we perform an average of 100 transplants per year. All faculty have full time academic appointments and are committed to teaching. Faculty within the division conduct clinical research, including outcomes based protocols, and drug trials. Research opportunities are plentiful including collaborative work with basic scientists, as well as opportunities for research with clinical faculty.
ECU Health also offers an accredited 3-year Nephrology – Critical Care Medicine training program which has integrated elements over the 3-year training period.  The first 24 months are devoted predominantly to nephrology training however includes 4 blocks of critical care training, Combined fellows participate in both the Nephrology Crash Course and Core Curriculums in addition to Critical Care Medicine mini-Boot Camp during their first 2 years of training.  The third year of training is predominantly critical care medicine, but fellows will return for a final block of nephrology training which also provides them opportunity to study for the Nephrology Boards.
At the end of the 3-year training program fellows are board eligible for both Nephrology and Critical Care Medicine.
The Nephrology Fellowship Program at East Carolina University is an exciting place to learn and grow. We welcome and encourage one-month nephrology rotations, as this affords a mutual opportunity to evaluate each other. Thank you for your interest in East Carolina University Nephrology and Hypertension.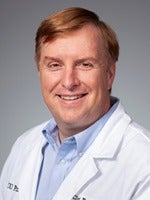 Clint Parker, MD
Associate Professor
Director, Nephrology Fellowship Program
Division of Nephrology & Hypertension
Virtual Tour of Nephrology
You Belong Here-our Graduate Medical Education program
---
Curriculum & Schedule
The Nephrology Fellowship Training Program is a fully accredited two-year training program. The program is clinically oriented and is characterized by a strong educational commitment and research opportunities.
CLINICAL EXPOSURE:   Fellows participate in weekly Chronic Kidney Disease Continuity Clinics, Chronic Transplant Clinics in addition to monthly Glomerulonephritis and Home Therapy Clinics.  Each fellow carries their own panel of in-center hemodialysis patients in addition to peritoneal dialysis patients.  They are also exposed to home hemodialysis during their training period.  In addition fellows have 4 dedicated months to Dialysis training in addition to 2 dedicated months of training in Kidney Transplantation.  Fellows learn kidney consultative medicine including management of acute and chronic kidney disorders in the hospital setting.  They will develop expertise in native and transplant renal biopsies, placement of temporary dialysis vascular access and in the following crucial techniques:  acute hemodialysis, peritoneal dialysis, continuous renal replacement therapy and apheresis therapies.
EDUCATIONAL CONFERENCES:   The Nephrology Training Program includes weekly conferences – Core Conference, Case Conference, and Department of Internal Medicine Grand Rounds.
Monthly conferences include Nephrology Grand Rounds, Journal Club, Division Research Conference, Renal Pathology Fellow Conference, Renal Biopsy Conference and bimonthly Nephrology Board Review.
ADMINISTRATIVE OPPORTUNITIES:  Renal Executive Committee Meetings are quarterly.
RESEARCH/ACADEMIC OPPORTUNITIES:   An annual research day is coordinated in the spring of each year by the Department of Internal Medicine.  Fellows also participate in the annual Kim Thomas Transplant Symposium in addition to the ECU Health Combined Quality Symposium.  Fellows are required to complete two scholarly projects during their two-year fellowship.
The Program Structure for both the two and three-year programs is shown below:
| Rotation (months) | Nephrology (two year) | Nephrology CCM (three year) |
| --- | --- | --- |
| Inpatient Consults | 6 | 4 |
| CCM | 0 | 2 |
| Outpatient | 2 | 2 |
| Dialysis | 2 | 1.5 |
| Transplant | 1 | 1 |
| Research | 1 | 1 |
| Elective | 2 | 1.5 |
---
Conference Schedule
Conferences form an important part of the nephrology fellowship training program. A series of case-based and didactic lectures have been assembled to meet the educational goals of the program. These include:
Nephrology Case Conference (Weekly)
The nephrology fellow is responsible for presenting cases at this conference or in assisting other team members in the preparation of their cases. This conference also serves as a morbidity and mortality conference as issues of quality of care and complications of treatment may arise.
Nephrology Core Conference (Weekly)
This lecture series is designed to provide a didactic supplement to the nephrology residents' clinical training and encompasses a spectrum of topics appropriate for meeting curriculum requirements. Nephrology fellows are expected to attend this conference and may prepare for the lecture with reading assignments, but do not present at this conference.
Nephrology Grand Rounds (Monthly)
Includes an extensive review of a topic within nephrology. Speakers include nephrology fellows, faculty, multidisciplinary team members, and invited guests. The nephrology fellow is expected to present at least once per year at this conference.
Research Conference (Quarterly)
Nephrology attendings and fellows present the progress of their research, explore research ideas, or present interesting new findings that pertain to their field of research study. All nephrology fellows are required to participate in a research project and will therefore periodically present at this conference.
Renal Pathology Fellows Conference (Monthly)
A didactic conference for nephrology fellows and given by ECU renal pathologist Abdullah Thayyill. This conference educates fellows in various aspects of renal pathology and prepares them to present at monthly Renal Biopsy Conference.
Dialysis CQI (Continuous Quality Improvement) Conference (Monthly)
Looks at overall dialysis unit management issues including patient safety and quality. Fellows attend this conference with their supervising dialysis attending during outpatient rotations.
Internal Medicine Grand Rounds (Weekly)
All nephrology fellows are expected to attend and on rare occasion may be involved in supplementary fashion in a presentation.
---
Application Process
Candidates must have successfully completed an ACGME-accredited residency in Internal Medicine. Prospective Fellows typically apply at the beginning of their third year of internal medicine residency.
Applications are accepted through the Electronic Residency Application Service (ERAS). We will notify applicants regarding an interview after receiving a completed application. A completed application consists of:
CV
3 letters of recommendation, including one from the Internal Medicine Program Director
USMLE or COMLEX transcript
personal statement
MSPE
Medical school transcript
ECFMG status report (if applicable)
Candidates are selected for fellowship using the National Residency Matching Program (NRMP)
*Vidant Medical Center does not support H1 or H1B Visas, but does accept J-1 Visas.
---
Current Fellows
Third Year- Nephrology Critical Care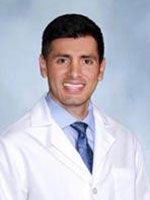 Yusef Monzavi Esparaza, MD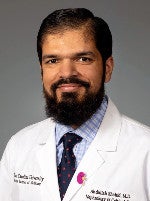 Abdulla Shahid, MD

Second Year- Nephrology Critical Care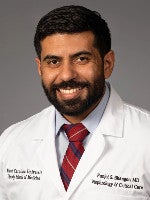 Punjot Bhangoo, MD
First Year- Nephrology Critical Care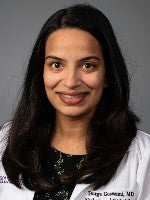 Durga P Goswami, MD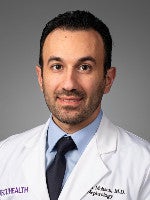 Adham Mohsen, MD

Resources
Powered by the Division of Nephrology and Hypertension at East Carolina University, this website is a 100% evidence-based Nephrology teaching instrument. It is programmed and maintained solely by the faculty members of ECU-Brody School of Medicine, but is intended for all those who want to learn Nephrology.