Diabetes Fellowship
---
The Fellowship
Diabetes is currently reaching epidemic proportions in the United States with over 29 million persons affected in this country. The total costs of healthcare for people with diabetes in the U.S. exceeded $322 billion in 2012.
Eastern North Carolina is one of the areas in the "diabetes belt" that is defined by having counties with over an 11% prevalence of diabetes. The incidence is higher in Eastern North Carolina given the high percentage of minorities, the high prevalence of obesity, and substandard health care in much of our rural area. This is certainly bad news for the health of our area but a great opportunity for learners.
The good news is that thanks to medical research, we are undergoing an unprecedented explosion in the development of new treatments for patients with diabetes. What is ironic and most unfortunate is that at this very time we are facing a serious shortage of diabetes specialists in the U.S. and in areas Eastern N.C. in particular.
Most diabetologists are endocrinologists, i.e., physicians who have been formally trained in internal medicine or pediatrics and have completed an additional two or three year fellowship in either adult or pediatric endocrinology to develop an expertise in diabetes. There is a huge shortage of endocrinologists in the US. Furthermore, many endocrinologists are not passionate about or even interested in caring for people with diabetes. Unfortunately, true diabetes specialists may be considered an "endangered species" with the dwindling ranks of endocrinologists who dedicate themselves to care of the patients with diabetes.
Given this situation, it is not surprising that primary care physicians manage over 90% of patients with diabetes. However, modern management of diabetes requires extensive training, including education on the use of a team approach that includes certified diabetes educators (CDEs), i.e., nurses, dieticians and pharmacists, plus supporting ophthalmologists, nephrologists, podiatrists and social workers/psychologists.
To better prepare physicians to care for this growing and complex patient population, the Brody School of Medicine of East Carolina University (BSOM) and ECU Health Medical Center, in conjunction with the ECU Diabetes and Obesity Institute (ECDOI) began a one-year clinical diabetes fellowship for primary care physicians in 2004. As of 2015, we are in our 12th year of this innovative and successful program that is open to physicians who have successfully completed their training in internal medicine, family medicine, or med-peds. Our program is one of only two diabetes fellowships in the U.S, although they are very common in other countries. The ECU Health Medical Center office of Graduate Medical Education sponsors the program and pays the salary and benefits of the fellows. ECU Health Medical Center currently sponsors 40 programs with over 400 physician trainees each year.
Diabetes Fellows intensively study management of all types of diabetes patients and all ages including children and pregnant women with diabetes as well as lipids, obesity and nutrition for one year as a PGY-4 resident. The BSOM adult and pediatric endocrinologists and the maternal fetal medicine OB physicians provide state of the art preceptorship in both the BSOM Clinics and the inpatient setting at ECU Health Medical Center. Over the academic year, fellows are required to spend a minimum of eight weeks on our busy inpatient consultation service. On the consult team, the diabetes fellows work alongside the endocrine fellows and residents under the supervision of one of our seven endocrinology faculty.
The fellowship includes additional training in nutrition, obesity, pediatric diabetes, diabetic foot and wound care, inpatient diabetes management, gestational diabetes and high risk pregnancy, type 1 diabetes, insulin pumps, bariatric and geriatric diabetes. Concentration in these areas will depend on the interest of the fellow and the availability and interest of the expert supervising faculty.
Didactics include the weekly diabetes lecture series, endocrinology grand rounds, journal clubs and many other conferences. Diabetes fellows are expected to make two formal presentations for endocrinology grand rounds and present journal clubs on recent diabetes articles. Fellows are also encouraged to submit interesting cases, or QI/research projects to the BSOM and GME research day programs held in the spring.
Candidate selection is a competitive process and is based on prior academic performance and recommendations from the residents' supervising faculty/attending physicians. All fellows must be board certified or eligible in their field. Practicing physicians who are board certified and within 10 years from their residency are welcome to apply. If requested, potential candidates may receive an electronic copy of a published article about our program and the names and specialties of our alumni and current fellows. E-mail inquiries are welcome but only candidates who send in all the required documentation will be considered for an interview.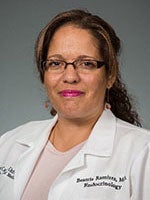 Francesca Ramirez, MD
Diabetes Fellowship Director
Clinical Assistant Professor, Division of Endocrinology
Quotes
The following are quotes from a few of our alumni written to the program director:
This was the best year of my training and it will remain the best year of my medicine career! Thank you for creating this fellowship opportunity!

– Shiv Patil, MD, MPH (Family Medicine)
Thank you so much for sharing your pearls of knowledge and wisdom with me. I will remember this year as the best year of my clinical training.

– Supriya Oberoi, MD (Family Medicine)
The Diabetes Fellowship at ECU allowed me to see with a magnifying glass the exciting world of diabetes and become part of it. It taught me to understand the intricacies of a condition I knew very little of before. Most importantly, it allowed me to cultivate my curiosity and be able to contribute to research and academia in diabetes.

– Carlos Mendez, MD, FACP (Internal Medicine)
Thank you for the best year of training I have had! Thank you for being such a special teacher and mentor.

– Amy Howell, MD (Pediatrics)
The ECU diabetes fellowship was the best year I spent as a trainee. I learned things that are not taught in any medical school or residency. I'm proud to call myself a diabetologist.

– Vanessa Lin, MD, MPH (Internal Medicine-Pediatrics)
I wish I could come back to ECU for one more day of the diabetes fellowship!

– Silvia Abreu, MD (Internal Medicine)
---
Application Process
Applicants must be board certified or eligible in Internal Medicine, Family Medicine or Med-Peds.
Applications will be accepted after September 1 each year.
Application deadline for the fellowship is December 1.
Interviews will be held in January and February with final selection of fellows to be completed by March.
Current Diabetes Fellows
Shviani Thapa, MD
Residency: Brookdale University Hospital
Medical School: Bolan Medical College