Fellowship
Infectious Disease Fellowship training at ECU Health Medical Center/ECU Brody School of Medicine is a 2 year ACGME-accredited program leading to subspecialty board eligibility in Infectious Disease.
The goal of this program is to produce clinicians who have a comprehensive understanding of the field of Infectious Disease and who are sufficiently well grounded in principles to practice it successfully. The program also aims to allow fellows to explore additional areas of interest that may be relevant to their professional interests and careers.
For individuals who also wish to pursue Critical Care Medicine Subspecialty Board certification, an additional 1 year of training through the Pulmonary/Critical Care Division following completion of the ID portion of the fellowship is available.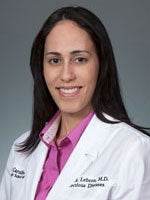 Dora A. Lebron, MD
Assistant Clinical Professor
Director, Infectious Diseases Fellowship Program
---
The program at ECU Health Medical Center/Brody School of Medicine provides:
Training in ID consultation in a 900+ bed academic referral center for Eastern North Carolina.
ECU Health Medical Center serves as the teaching hospital for Brody School of Medicine, with referrals from a 20 county-wide region, in addition to the 8 hospitals which are part of ECU Health system.
A broad clinical experience, both in- and out-patient, which includes robust training and participation in:
Clinical Microbiology
Antibiotic Stewardship
HIV clinic
Outpatient Infectious Disease clinic
Chronic viral hepatitis clinic
International Travel Clinic & Global Health
Hospital Epidemiology & Infection Control
The fellowship schedule includes:
Weekly lectures and Case Conference
Weekly Board Review
Weekly Microbiology Plate Rounds
Research block time
Monthly journal club
Elective opportunities, which include:
Pediatric ID
Wound Care
Transplant ID* (UNC Chapel Hill)
Off-site**
*housing provided
**meeting ACGME requirements, 3-month lead time