Welcome to the Division of Nephrology & Hypertension
The division of Nephrology and Hypertension maintains a full spectrum of clinical services, including management of acute and chronic renal failure, renal transplantation, and hypertension. The division has extensive experience in hemodialysis, all forms of peritoneal dialysis, continuous renal replacement therapy, plasmapheresis (including immunoabsorption), renal biopsy, and immunosuppression management.
The division maintains two chronic dialysis units, one on the East Carolina University School of Medicine campus, and the other on the Outer Banks of North Carolina. In addition, the University maintains an active renal transplant program performing approximately 100 transplants per year.
---
About Us
The Division of Nephrology and Hypertension provides quality care and education to adult patients with kidney disease in Eastern North Carolina. We maintain a full spectrum of clinical services that include the management of the following:
End Stage Renal Disease
Chronic Kidney Disease
Renal Transplantation
Hypertension
Glomerular Diseases
We have extensive experience in the following:
Hemodialysis
Home Hemodialysis
Peritoneal Dialysis
Continuous Renal Replacement Therapy
Plasmapheresis
Renal biopsy
Immunosuppression Management
The Nephrology Fellowship Training Program offers a wide variety of options in nephrology. We offer a 2-year track concentrating in Nephrology or a 3-year track in Nephrology Critical Care.
Our clinics are located in Greenville, Wilson and the Outer Banks. We manage the dialysis treatments for patients at nine dialysis centers located throughout eastern North Carolina. Also, our team of nephrologists have years of collective experience in conducting federally-funded and industry-supported trials and observational clinical research. If you are interested in finding out more about our clinical trials, log on to clinicaltrials.ecu.edu.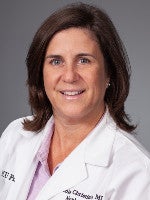 Cynthia R. Christiano, MD
Division Chief
Associate Professor of Medicine