Fellowship Overview
The Division of Pulmonary, Critical Care, and Sleep Medicine at the Brody School of Medicine offers fellowship training in Pulmonary Disease and Critical Care Medicine. The program is based at ECU Health Medical Center and operated together with the Brody School of Medicine at East Carolina University. The fellowship program meets the requirements for residency education in Pulmonary Disease and Critical Care Medicine established by the Accreditation Council for Graduate Medical Education (ACGME) and is fully accredited. Fellows who complete the program are qualified to sit for the Pulmonary Disease and/or Critical Care Medicine certification examinations offered by the American Board of Internal Medicine.
The goal of this program is to train well rounded physicians who have acquired the skills necessary to thrive in any setting in Pulmonary Disease and Critical Care Medicine. Graduates will be equally able to function as academic physicians and private practitioners.
   Jennifer Stahl, MD
Assistant Professor
Director, Fellowship Program
Two training pathways are offered: a three year combined program in Pulmonary Disease and Critical Care Medicine and a one or two year program in Critical Care Medicine alone. Candidates who have successfully completed fellowship training in Nephrology, Infectious Disease, Cardiology, Pulmonary Disease, and Gastroenterology only require one year or training in Critical Care Medicine. The educational program is divided 13 four week long blocks per year. Training in the program has three components: the required core clinical rotations, didactic education consisting of conferences, workshops, and simulation exercises, and participation in the research program. Dedicated to research or electives but the research program itself extends across the entire 3 year fellowship. The core of the training is based on close supervision and involvement by the faculty and an extensive program of didactics.
In order to learn the necessary cognitive skills, fellows will participate in a variety of Division and extramural conferences as well as engage in substantial self-study of the literature and text books. To complete their educational program, fellows will engage in a variety of both clinical and basic science research endeavors with a goal of presentation at national meetings and publication in peer-reviewed journals. The research training includes a number of formal research rotations but the research program itself extends
The program began as a two year pulmonary disease fellowship in 1999 and expanded to a three year pulmonary disease and critical care medicine fellowship in 2005, and in 2012 the program expanded to four fellows selected to begin training for the combined program and two fellows for the Critical Care track. The total complement of fellows is 16.
In addition to the clinical services the Division of Pulmonary, Critical Care and Sleep Medicine has active ongoing translational research program centered around the Lung Cell Biology Program which has several NIH grants, as well as corporate and device trials. We provide extensive laboratory facilities with access to cutting-edge techniques. Targeted research areas include: Sarcoidosis and lung inflammation, Alveolar Proteinosis and related cytokine biology, and lung lipid homeostasis.
Program Faculty and Staff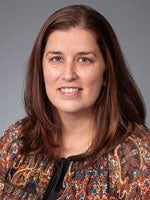 Amy Gilliland, MD
Associate Program Director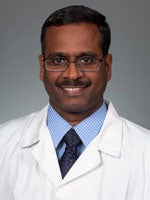 Veeranna Maddipati, MD
Associate Program Director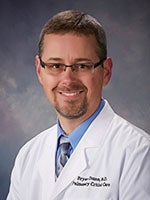 Bryan K. Dunn, MD
Associate Program Director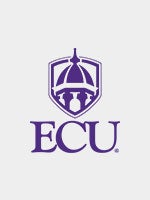 Cathy Munson
Fellowship Program Coordinator
munsonc@ecu.edu