Endocrinology Fellowship
---
The Fellowship
The Division of Endocrinology at ECU has an accredited two year clinical training program for those seeking subspecialty training within Endocrinology, Diabetes, and Metabolism.
Brody School of Medicine provides a wide range of accredited programs for 340 residents and fellows in clinical practice and for doctoral students in the basic medical sciences. ECU Health Medical Center, the teaching hospital for the medical school, is a tertiary referral center and provides acute, intermediate, rehabilitation, and outpatient health services to more than 1.3 million people in 29 counties. In an average year more than 33,000 inpatients and more than 266,000 outpatients are treated at the medical center's facilities. This provides for a broad patient mix with excellent exposure to all types of endocrine disease. In particular, eastern North Carolina has a very high prevalence of diabetes. Our institution is particularly well known for expertise in bariatric surgery and cardiovascular disease and endocrinologists are highly involved in the care of these patients. We work in close interdisciplinary fashion with nuclear medicine, endocrine surgeons, and radiation and medical oncologists in the care of large numbers of thyroid cancer patients. Our institution has complete state of the art support in radiology, surgery, and pathology.
The affiliated health care practice, ECU Physicians, is the largest medical practice in eastern North Carolina with more than 650 primary and specialty care physicians. The general endocrinology clinic is located in the Brody Outpatient Center and provides endocrine care on a consultative and continuity basis. Thyroid ultrasounds and fine needle aspirations are done at this site. A registered dietician and certified diabetes educator are available to see patients at this site. Podiatrists see diabetic foot problems at this site on a weekly basis. A GE Lunar bone densitometer is located at this site and patients are referred here for bone densitometry and clinical consultation for prevention and treatment of osteoporosis.
ECU Health Medical Center is committed to education and strong support of residents and fellows through a robust GME administrative structure. The faculty of the Brody School of Medicine are dedicated and committed to being exemplary mentors and role models, in addition to outstanding clinicians and investigators. The Internal Medicine department and the Endocrinology division are solidly committed to maintaining an educational environment conducive to acquiring those competencies necessary to be an outstanding independent attending or consulting physician.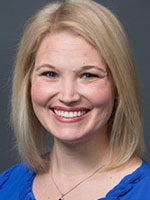 Caroline Houston, MD
Endocrinology Fellowship Director
Clinical Assistant
Professor, Division of Endocrinology
---
Curriculum & Schedule
The fellowship training program consists of 6 months of inpatient consultations (4 months in the first year and 2 months in the second year). A minimum of ten months protected time for research is provided in the second year. Continuity clinic occurs on four half days per week for first year fellows and two half days per week for second year fellows. Thyroid ultrasound and biopsy procedure clinic is held one half day per week for each fellow. Fellows do not have clinics during inpatient rotation weeks. Subspecialty clinics in pediatric and reproductive endocrinology are held weekly for three months each in the second year. Ample educational opportunities are offered through weekly clinical case conferences and lectures, journal club and research conferences, and daily rounds.
The endocrinology, diabetes and metabolism section offers numerous opportunities in clinical and translational research, particularly through the ECU Metabolic Institute, which was established in 2004 to research the potential causes and cures for diabetes, and includes numerous NIH-funded investigators.
The Endocrinology Fellowship Program encompasses the ACGME competency requirements which include the following:
Patient Care
Medical Knowledge
Interpersonal and Communication Skills
Professionalism
Practice-Based Learning and Improvement
System-Based Practice
---
Application Process
The Division of Endocrinology at ECU Brody School of Medicine and ECU Health Medical Center receives applications through the Association of American Medical Colleges (AAMC) Electronic Residency Application Service (ERAS).
We only accept applicants with US citizenship, permanent resident, or J1 Visa, who completed an accredited US internal medicine residency program. We offer two positions per year.
---
Current Endocrinology Fellows
Second Year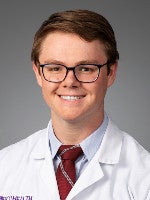 Matthew Crabtree, DO
Residency: Grand Strand Medical Center
Medical School: Lincoln Memorial University DeBusk College of Osteopathic Medicine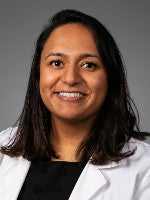 Shailee Jain, MD
Residency: Vidant Medical Center/ East Carolina University
Medical School: St. Georges' University of Medicine
First Year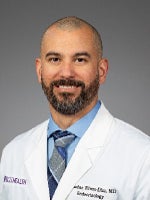 Jonathan Rivera Diaz, MD
Residency: University of Florida College of Medicine
Medical School:  University of Medicine and Health Sciences,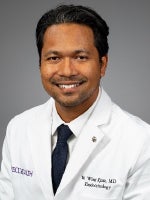 Ye Kyaw, MD
Residency: Kingsbrook Jewish Center
Medical School: University of Medicine 1
---
Graduates
After completing their training, our fellows go on to private, academic or a combined practice. Below is a list of our fellowship graduates from 2013-2021 and their post-fellowship occupations.
| Year | Occupation | Location |
| --- | --- | --- |
| 2013 | Private Practice | Union City, CA |
| 2014 | Private Practice | Middletown, NY |
| 2014 | Private Practice | Beaumont, CA |
| 2015 | Academic Practice | Morgantown, WV |
| 2016 | Academic Practice | Greenville, NC |
| 2016 | Private Practice | Findlay, OH |
| 2017 | Private Practice | Charlotte, NC |
| 2017 | Private Practice | Greenville, NC |
| 2018 | Academic Practice | Allentown, PA |
| 2018 | Private Practice | Greensboro, NC |
| 2019 | Private Practice | Greensboro, NC |
| 2020 | Private Practice | Hendersonville, NC |
| 2020 | Academic Practice | Greenville, NC |
| 2021 | Private/Academic Practice | Fayetteville, NC |
| 2021 | Private/Academic Practice | Wilmington, NC |
| 2022 | Private Practice | Virginia |