Welcome to the Division of Infectious Diseases & International Travel Health
The Mission
The Mission of the Division of Infectious Diseases at East Carolina University is to EDUCATE through outreach, innovation and excellence; SERVE the people of eastern North Carolina through the practice of knowledgeable, compassionate patient care; and conduct quality RESEARCH for the advancement of medical knowledge.
The Division of Infectious Diseases and International Travel Health is dedicated to the treatment of people living with many different infections in eastern North Carolina. Our clinic is proud to provide a variety of services to our clients:
Laboratory services
Consultative care for a wide array of infectious diseases
Ryan White ambulatory care and supportive services
Support groups
Access to research studies and clinical trials
Our physicians and physician extenders currently provide care for more than 1500 patients in our clinic in Greenville as well as for another 300 patients in clinics in surrounding counties, one of the largest HIV clinics in the southeast. Faculty members are currently collecting data to address the issue of the disproportionate infection rate of HIV in African-Americans. The division is involved in many clinical trials involving HIV therapies. These trials provide needed drugs to persons who may otherwise not be able to receive treatment.
Education is an integral component of our division. The division is involved with the education of medical students at The Brody School of Medicine as well as with residents at ECU Health Medical Center. Faculty members and staff within the division are providing education regarding HIV infection to high-risk groups in the community. Finally, the division has had an infectious diseases (ID) fellowship program since 2002. We have also recently created a combined fellowship training program in ID and Critical Care Medicine. We feel that the training of future infectious diseases clinicians is critical in our fight against the many infections that threaten our population today and in the years to come.
ECU Adult Specialty Care
2390 Hemby Lane
Greenville NC 27834
252-744-4500
Option 1- Travel Clinic
Option 2- Adult Specialty Care
---
Highlights
Division of Infectious Diseases
HIV care through one of the largest comprehensive HIV clinics in the southeastern United States serving over 1600 patients throughout eastern North Carolina.
Prevention of HIV through a dedicated PrEP ( Pre-exposure Prophylaxis) clinic.
Antimicrobial Stewardship Services – we have one of the largest stewardship programs in the state and have uniquely set up these services at our community hospitals through a team of Infectious Diseases physicians and 4 dedicated antimicrobial stewardship pharmacists.
Hepatitis C treatment – we are one of the largest referral centers for Hepatitis C care and treatment in eastern North Carolina. We are partnering with the Carolina Hepatitis C Academic Mentorship Program (CHAMP) to facilitate building a primary care workforce with the expertise to manage and cure hepatitis C in Eastern North Carolina.
Travel Health – we are the largest International Traveler's Clinic in eastern North Carolina, providing travel advice and immunizations for those individuals traveling overseas. Read more about our International Travel Clinic.
Inpatient consultative services at Vidant Medical Center. Visit ECU Health Medical Center's website.
Infectious Diseases consultative services to the growing community of ECU Health hospitals in the region reaching 1.4 million people across 29 counties.
General Infectious Diseases Clinic providing regional outpatient consultative services for a variety of infectious disease conditions. Read more about our clinical services.
ACGME Accredited Infectious Diseases Fellowship Program which was established in 2002, accepts two fellows per year, and is one of the few in the nation to offer a dedicated ID-Critical Care Medicine track. Read more about our fellowship program.
We are a division of the department of Internal Medicine at East Carolina University which services ECU Health Medical Center.
ECU Health Medical Center
The third largest Level I Trauma Center in the nation
Over 900 beds
Serves as the flagship teaching hospital for the Brody School of Medicine at East Carolina University
Tertiary care referral center and designated Magnet hospital.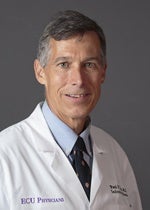 Paul Cook, MD
Professor of Medicine
Chief, Division of Infectious Diseases