Welcome to Pulmonary, Critical Care, and
Sleep Medicine
The Division is at an inflection point with an accelerated growth phase. The Division, one of only four academic Pulmonary, Critical Care and Sleep Medicine programs in North Carolina offering a three-year fellowship, has a broad-based faculty with interests and expertise in all aspects of the specialty including, outpatient consultative care, Medical Critical Care, and all procedural aspects of the specialty, including interventional pulmonology and medical thoracoscopy.
---
About Us
Our specialists in respiratory diseases (Pulmonologists) treat lung and breathing problems.  We treat patients in our clinic and in the hospital, including those in intensive care.  Our offices are located on the first floor of the Moye Medical Building across from the Brody School of Medicine.
We strive to provide patients with specialized care for the following conditions:
Asthma
Bronchitis
Chronic interstitial lung disease or lung fibrosis
Chronic Obstructive Lung Disease (COPD)
Cough
Emphysema
Excessive weight or obesity and related respiratory complaints
Hypersensitivity pneumonitis or reactions
Lung cancer
Lung scarring
Occupational lung disease (including asthma, farming, asbestos, or coal or dust related respiratory problems or symptomes, or other occupational exposures)
Pulmonary alveolar proteinoisis (PAP)

Pulmonary hypertension
Pulmonary vascular disease or blood clots
Sarcoidosis
Shortness of breath (or breathlessness)
Sleep disorders, including snoring and/or excessive sleepiness
Sputum production with or without blood
X-ray or CT scan lung abnormalities
Wheezing
Preoperative pulmonary evaluation prior to surgery
The following procedures are available through our clinic:
Flexible Bronchoscopy – allows your physician to examine the air passages of your lungs.  This checks for cancer, infection, inflammation and allows for tissue sample collection.
Thoracentesis– the removal of fluid from around the lungs for further evaluation.
Pulmonary Function Testing (PFT) – measuring the lungs' abilities, or function, and air volume.  This test help diagnose lung disease.
Cardiopulmonary Exercise Testing – performed while a patient rides a stationary bicycle to allow measurement of lung and heart function
Polysomnography (Sleep Study) – overnight test used to diagnose sleep disorders
6 Minute Walk Test – a simple walk test to evaluate your exercise capacity and potential need for home oxygen
Fractional exhaled Nitric Oxide test (FeNO) – test to evaluate for evidence of inflammation in your lung for those with asthma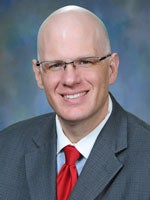 Mark Bowling, MD
Division Chief
Associate Professor
---